---
Welcome Dave Butler!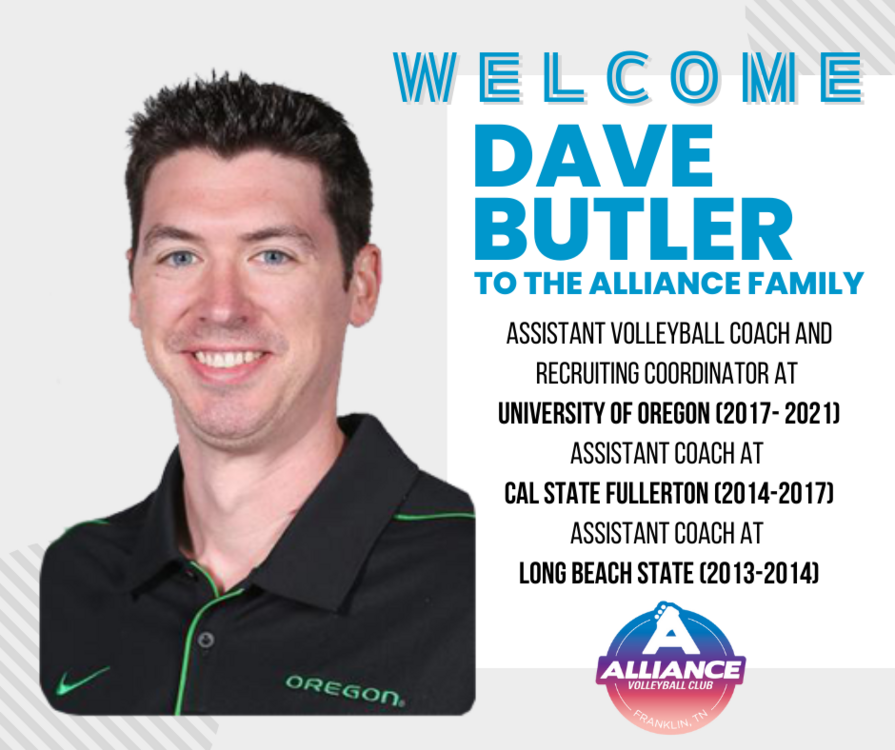 August 1, 2023 -
Please welcome Alliance's newest staff member, Dave Butler! With the amount of knowledge and experiences, it is only fitting that Dave will be joining us as Director of Player and Coach Development. We are so excited to have Dave with us! Check out his coaching experience and a statement from our Managing Director, Abbey West.
Coaching Experience:
-Assistant Volleyball Coach and Recruiting Coordinator at University of Oregon (2017- 2021)
-Recruited two top 5 classes (#4 in 2018 and #3 in 2109) and a top 10 (#8 in 2023).
-Participated in the Sweet 16 in 2019, Elite 8 in 2018, 2nd round of NCAA tournament in 2017.
-Team ranked in the top 15 in 3 separate seasons (#8 in 2018, #9 in 2019, and #14 in 2020).
-7 players named to the All Region Team
-All Pac-12
-7 All-Americans
-2 Pac-12 All Freshman
-2 Region Freshman of the Year
-1 AVCA National Freshman of the Year.
-Assistant Coach at Cal State Fullerton (2014-2017)
-Assistant Coach at Long Beach State (2013-2014)
-USAV Coaching :
-USA HP A1 Head Coach (2018-2019)
" I had the pleasure of meeting Dave back in 2017 when we worked together with the USAV High Performance Select A1 program and I've been a fan of his ever since. Not only does he bring a wealth of knowledge gained from experience at a variety of levels, his professionalism and ability to create genuine relationships will serve our community at a level I can't begin to put into words. Dave will serve Alliance in a variety of areas but his main focus will be the development of our coaches and players. I am anxiously awaiting for our coaches and families to have the opportunity to connect with Dave and experience a level of training that I'm confident will take Alliance to new heights." - Managing Director, Abbey West
#AllianceStrong